Thanks for choosing Dr. Noah
Leaving a Google+ Review for us is easy! To get started click on the link below and follow the instructions.
1. Click on the "Write a review" button in the "Review Summary" section of our Google+ page. A review box will pop up, simply pick your rating on a scale from one to five stars and describe your experience at Family Chiropractic Center of Bayonne.
2. When you're finished, click Publish! Any reviews that you write will be public and attributed to your Google+ name.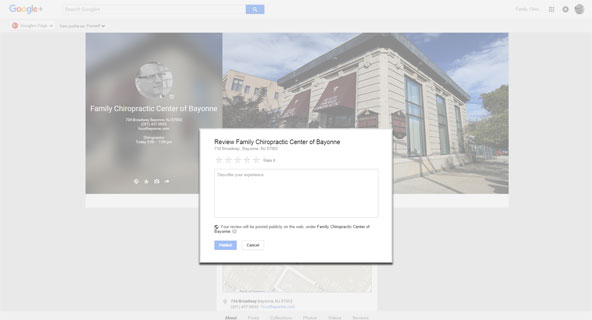 Don't Have a Google+ account? No Problem!
Signing up is simple. If you already have a Gmail account, just SIGN IN TO JOIN GOOGLE+.
If you don't have a Gmail account, you can SET ONE UP HERE. Follow the easy steps and you are on your way to writing reviews!
Want to Review Us on Facebook?
Simply sign into Facebook and VISIT THE FAMILY CHIROPRACTIC CENTER OF BAYONNE FACEBOOK PAGE.
First, like our page on Facebook. Next, click on the review button. You'll be prompted to choose a 1 to 5 star rating and provide a brief review of your experience. Hit post and you're all finished!
Get health tips straight to your inbox
Location
Family Chiropractic Center of Bayonne
120 Lefante Way, Bayonne, NJ 07002
Phone: (201) 437-0033
Fax: (201) 858-4049
Office Hours
Monday, Wednesday & Friday
9:00 am – 1:00 pm
3:00 pm – 6:00 pm
Tuesday
3:00 pm - 6:00 pm
Saturday
9:00 am – 12:00 pm
Office Closed Sunday