Learn More About Bayonne Chiropractic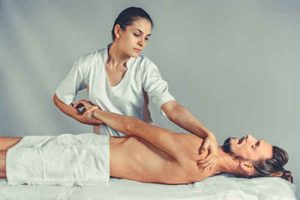 Chiropractic is the Science, Art, and Philosophy that concerns itself with the restoration of good health by restoring and maintaining a properly functioning nervous system, without the use of drugs or surgery. Chiropractic is based on the scientific fact that your body is a self-regulating, self-healing organism. These important functions are controlled by the brain, spinal cord, and all the nerves of the body. The skull protects the delicate tissues of the brain. The moving bones of the spine protect the vulnerable communication pathways of the spinal cord and nerve roots. If the nervous system is impaired, it can cause malfunction of the tissues and organs throughout the body. Doctors of Bayonne Chiropractic call this the Vertebral Subluxation Complex. The Bayonne Chiropractic adjustment has been proven to increase motion, increase circulation, reduce swelling and pain, and remove nervous irritation. Once this nervous irritation is removed, your body is able to do what it is designed to do – heal itself.
Subluxation
The word "subluxation" comes from the Latin words meaning "to dislocate" (luxare) and "somewhat or slightly" (sub). A subluxation means a slight dislocation or misalignment or biomechanical malfunctioning of the bones of the spine. These disturbances may irritate nerve roots and the blood vessels which branch off from the spinal cord between each of the vertebrae. This irritation may cause pain and dysfunction in muscle, lymphatic and organ tissue, as well as neurological imbalances in the normal body processes. A fall, injury, sudden jar, trauma, or sometimes an inherited spinal weakness can displace a vertebra. Other causes include improper sleeping conditions or habits, poor posture, occupational hazards, incorrect lifting practices, obesity, lack of rest and exercise, and stress.
Frequently Asked Questions (FAQ)
Why should I see a Doctor of chiropractic?
From professional athletes to homemakers, engineers to electricians, infants to seniors, chiropractic care has been the answer to optimum health. Many people see a Doctor of Chiropractic for back, neck or joint problems, while others may seek relief from the discomfort caused by headaches, high blood pressure, asthma or other conditions. Still, others find that regular visits to their chiropractor keep them in peak condition. Regularly a dentist checks our teeth, an optometrist checks our eyes and a doctor checks our blood pressure and heart. Yet, we take the spine – a crucial component of our body – for granted. Call your family doctor of Chiropractic today because regular checkups of your spine can help you maintain better health.
Does Chiropractic adjustment hurt?
Most chiropractic adjustments are painless; in fact, the adjustment may feel good and can be relieving. If you've had a recent injury, however, adjustments can irritate inflamed tissue and cause some discomfort. Some people also experience odd sensations in their extremities after adjustments. This is a normal reaction to the relieving of pressure on nerves and is usually no cause for concern.
Is chiropractic care addictive?
No. If only it were, there would be more healthy people around and chiropractors would not get patients who last saw a chiropractor a few years ago when their back went out. It is possible to get used to feeling more balanced, less stressed, and more energetic as a result or regular chiropractic care. Chiropractic is not addictive, however, good health is.
How old should a person be before receiving chiropractic care?
While every chiropractor has his or her own preference, people of all ages are candidates for chiropractic treatment. Even babies can have subluxations, due to the rigors of birth. In general, it's best to treat children's subluxations early, as they interfere with nerves that control developing muscles and organs. With an early checkup, your chiropractor can detect these problems while they're easy to correct.
Does chiropractic work for all types of health problems?
No, however chiropractic care is successful with a very wide variety of health problems not necessarily considered "back" problems because of improved nerve system function. With a normal nerve supply the body's natural healing capacity can improve a variety of health problems.
Should I go to a chiropractor if I feel fine?
Your chiropractor can recognize and detect problem areas in your spine before they develop into problem conditions. Chiropractic adjustments may help to maintain or support a healthy spine, and maintenance spinal care programs, which may include advice on posture, nutrition, and exercise, can effectively prevent pain. Regular checkups will also ensure that small stresses on the spine don't become major misalignments.
How will the adjustment help me?
Chiropractic adjustments help eliminate interference that prevents your body from healing itself. Misaligned vertebrae interfere with your nervous system, which affects organs and muscles throughout your body. Your chiropractor treats the underlying problem, which can alleviate painful symptoms.
Does an adjustment have to make a noise to be effective?
No. While it's true that patients often hear a "pop" during an adjustment, similar to the sound you'd hear cracking your knuckles, it's not related to the treatment's effectiveness. Instead, the explanation lies in a lubricant called synovial fluid that's found in every joint. That fluid contains dissolved gases. Separating joints creates pressure, which forces the gases to rapidly escape, creating a "pop."
How does chiropractic care help, pregnant women?
Pregnancy places additional weight and stress on women's bodies. Chiropractic treatment can help relieve pregnancy-related low back, leg and shoulder blade pain. It may also reduce incidences of a headache and nausea. Ask your chiropractor how much experience he or she has in treating pregnant women.
Can a person who had back surgery see a chiropractor?
Yes. It's an unfortunate fact that up to half of those who had spinal surgery discover a return of their original symptoms months or years later. They then face the prospect of additional surgery. This too common occurrence is known as "Failed Back Surgery Syndrome." Chiropractic may help prevent repeated back surgeries. In fact, if chiropractic care is initially utilized back surgery can often be avoided in the first place.
Is it true that chiropractors do not prescribe medication or perform surgery?
Yes. Chiropractors don't prescribe medication or perform invasive procedures. They believe the body has the ability to heal itself, and therefore focus on providing it with the right elements for self-restoration. This makes chiropractic one of the safest of all treatments.
What type of education do chiropractic doctors receive?
Doctors of Chiropractic are well-educated. Chiropractic education and medical education are similar in many respects and different in others because chiropractors do not prescribe drugs or perform surgery, and medical doctors do not correct vertebral subluxations. After graduating with a Doctor of Chiropractic (D.C.) Degree, each candidate passes the demanding four-part National Board Examinations. Then, doctors apply to a governmental or professional licensing board and pass a still more difficult test before being granted the privilege to practice. A chiropractor's education, however, never ends. Most doctors complete regular postgraduate instruction for license renewal and to stay current on the latest research and adjustment techniques.
Get health tips straight to your inbox
Location
Family Chiropractic Center of Bayonne
120 Lefante Way, Bayonne, NJ 07002
Phone: (201) 437-0033
Fax: (201) 858-4049
Office Hours
Monday, Wednesday & Friday
9:00 am – 1:00 pm
3:00 pm – 6:00 pm
Tuesday
3:00 pm - 6:00 pm
Saturday
9:00 am – 12:00 pm
Office Closed Sunday